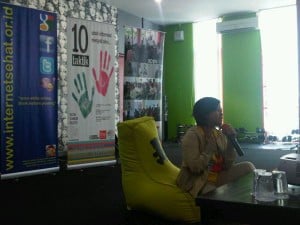 I am so proud Being part of change. Not for others to see me, but its joyful for my self. Indonesia AIDS Coalition with Odha berhak sehat campaign trying to be part of HIV AIDS changing issues in Indonesia and I am part of them.
A few month ago, Aditya Wardhana offer me, am I interest to involved together with ICT Watch team and internetsehat for #Linimassa2 movie. He said, I just being my self in this movie. Telling about how do I get out from HIV discrimination in civil society, and also with #IAC #OBS we inform HIV AIDS with an interesting way which is social media and internet. Than I think is a good opportunity for me.
And the day is come, shooting process in #IAC Office. Meet fabulous Dandhy laksono as a director of #Linimassa2 and also meet beautiful Manda she's also a great and active women who also part of this movie. During the process, me and Manda talk about how Internet can be a great place to share HIV AIDS information. I tell her what #IAC and #OBS do. We inform HIV AIDS to civil society and also to people living with HIV, with simply and acceptable words. so that people can understand, that HIV AIDS is no longer a scary thing. HIV AIDS also being a problem for affected population and #IAC try to engage them to become part of the change through community education.
In July 6th 2012, a month after our meeting with ICT Watch team. The movie that we've been waiting is launch together with Focus group discussion activity of Indonesia blogger #FGD2012 #Bloggercamp, placed in House Of Eva. Believe it or not, my heart beat so fast when I Finally see #Linimassa2. The powerful movie and will make a lot of changing in Indonesia.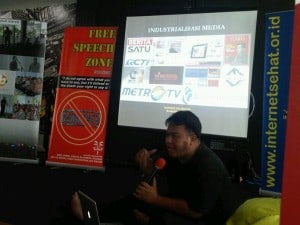 As I quote from www.linimassa.org "#Linimassa2 movie tells about how Indonesia people with all the challenges and limitations is able to empower themselves and the community around it by using the internet .this film was produced for educational purposed. In a #Linimassa2 production, we wanna make togetherness, not only in the content of the story but also in production since the beginning we use donation from public and joint venture mechanism. We believe this documentary film can be greatness of the nation and also contributed to the exaltation of Indonesia to the eyes of the world, will increasingly the value of history when we are together counted in".
and Indonesia AIDS Coalition, bring the big message about how HIV AIDS is a common problem with involving in this film. How our dream in a future, that people see HIV as a responsibility for all. HIV is only impact from economic, social, culture and education problems that still less in Indonesia. All the Blogger from Aceh to Papua that join in this #FGD2012 #Bloggercamp activity commited to help HIV AIDS campaign through internet like facebook, twitter, blog, others media. I believe, HIV new infection will continue to drop even to zero, with join the changing effort.
Come Follow @odhaberhaksehat @koalisiaids @kamusaids @infoHIVanAIDS @beritaaids every 1 news that you retweet and read by your Followers, very meaningful for HIV prevention efforts in Indonesia.
Also Like our facebook Fanspage
http://www.facebook.com/OdhaBerhakSehatPage
http://www.facebook.com/indonesiaaidscoalition
*Pic : @internetsehat
Incoming search terms: